Xequte News: MailList King V17.0, ImageEn 7.0.0 and IEvolution 6.0.0
10 July 2017
In this Issue
Hi
We have three releases to announce this month, one for our business customers are two for developers.
MailList King v17 is the latest release in our mailing list management software for the PC. Originally released in 2002, MailList King has had seventeen major updates, and over 300 minor ones, which can make it difficult to select new features. So we have focused on tuning the interface to make it quicker to do the important things, as well as adding some of the most requested improvements, such as PDF reports and better data visualization.
For our developers, we have released ImageEn 7.0.0. ImageEn allows Delphi and C++ developers to rapidly add imaging functionality to their software. V7.0.0 is the first release for the new vector functionality in ImageEnView. It adds support for new layers such as text, shapes and lines, with much more funtionality to come. It also adds SVG exporting and improved styling. We have also released a major update of our .NET version, IEvolution.
Thank you for your continued support. We hope these updates are useful to you and look forward to seeing you on our community forums:
MailList King v17.0 Released
MailList King allows you to manage and communicate with your mailing list directly from your desktop. V17 implements a range of enhancements including new reports and sending features, enhanced UI and statistics, and improved group editing.
Top Ten Enhancements
1. Group and Mailing List Reports
Generation of PDF reports to provide an in-depth review of your mailing list and groups
An enhanced Group mode provides searching, filtering and deletion of multiple groups. Also, includes a Group Properties panel
3. Improved Statistics Views
Revamped statistics display modes combine data and graphics, with enhanced styling allowing you to better understand your mailing list performance
New Home page provides a quick view of current status and recent activity
5. Message Editor Features
Many new features added to the message editor including zooming, Insert bookmark, Edit link, Remove Link, Strike-out Text and Clear Formatting
Frequently used text and signatures can now be stored, and inserted into your messages. Formatting and other HTML features, such as images, are fully supported
Group Merging: Multiple groups can now be selected and merged into a single group with one click.
Custom Group Reminders: Reminder messages can now be sent for each group on the anniversary of joining that group
Custom Sending Profile: For each group, you can now choose a sending profile to use


8. Usability and Styling Enhancements
Many enhancements to styling and usability throughout the software, including an improved blocking address dialog with quick access from the main window, historical statistics in Group properties, and much more.
Many Outlook enhancements including better access to addresses in bounce report messages, improved compatibility with 64-bit Outlook and Microsoft Exchange
10. Performance Improvements
Many optimizations to the database to improve performance, particularly on start-up.
Upgrade to MailList King v17
V17.0 is a free upgrade if you have purchased a license or upgrade after March 1 (e-mail us if you have not received your update). Other registered users can upgrade at:
Also, to make upgrading easier we are providing an extra discount for five days:
Note: These offers are only available from the links above and expire at Midnight, July 12.
Q. I don't have my old version of MailList King. Can I still upgrade?
A. Yes, when you upgrade you are provided an installation that does not require an old version.

Q. Will the upgrade affect the settings and mailing list I have created in my current version of MailList King?
A. Version 17 will automatically upgrade your existing mailing list and settings the first time that you run it. You will not lose any data. MailList King will automatically back up your data prior to the upgrade.
ImageEn is a photo editing and processing library for Delphi and C++ developers. V7.0.0 adds powerful layer, styling and other features.
Top Ten Enhancements in 7.0.0
1. Four New Text and Vector Layer Types
New layers types for TImageEnView, including sixty built-in shapes, lines, pointers, polylines, polygons, and text blocks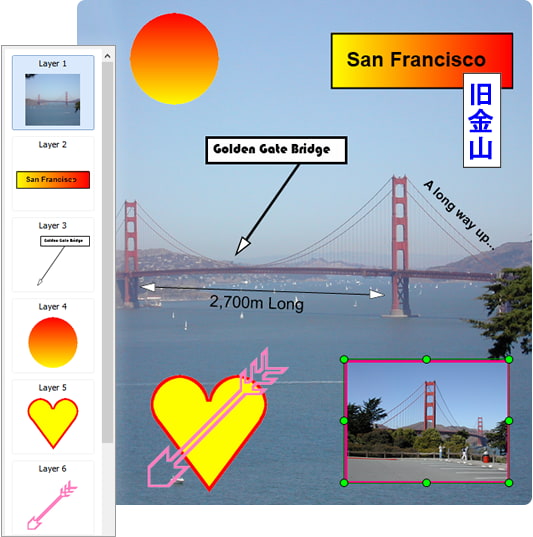 2. Numerous Other Layer Improvements
Improvements include mouse actions allowing your users to drag to create new layers, styling enhancements, loading and saving as TIFF Wang annotations and JPEG meta-data, and importing from TImageEnVect objects, and IEV, ALL and DXF files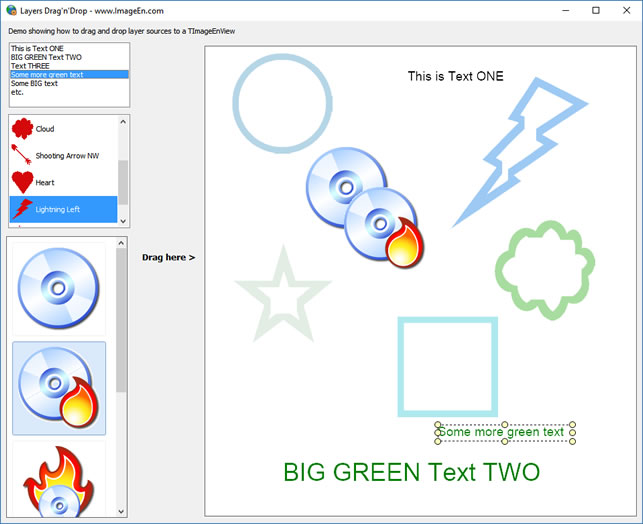 Exporting of layers and objects to SVG (Scalable Vector Graphics) as vector objects

ImageEn controls are now styled by VCL theming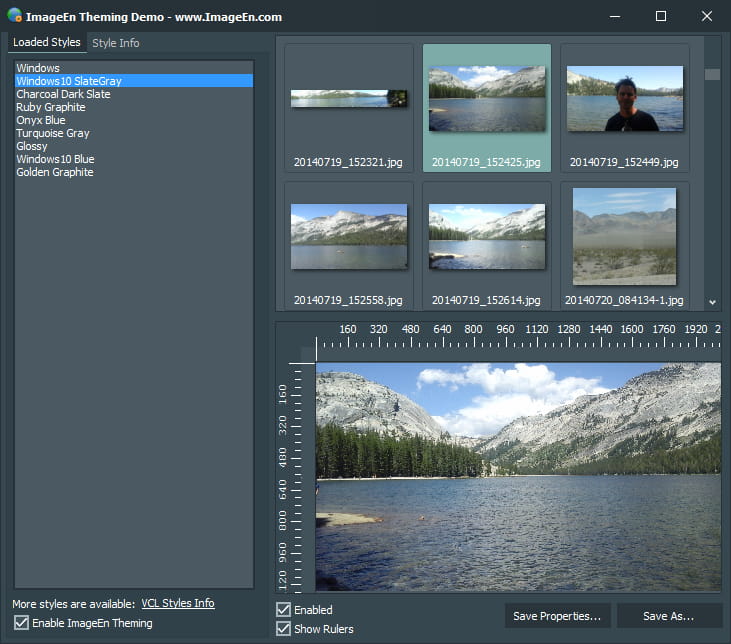 5. Forty New Actions for Rapid Development
New TActions, particularly for layer management, allowing you to build powerful imaging applications with a few lines of code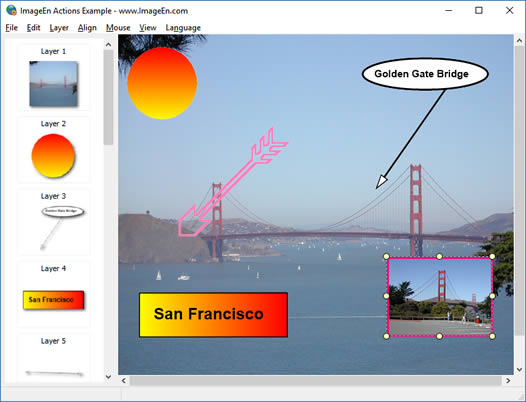 6. Enhanced TImageEnMView
TImageEnMView improvements include enhanced styling and assigning from a TImageList and TImageEnView Layers


7. New Image Processing methods
Including "Symmetric Nearest Neighbor" smoothing filter, Pixelize, and "Pencil Sketch" effect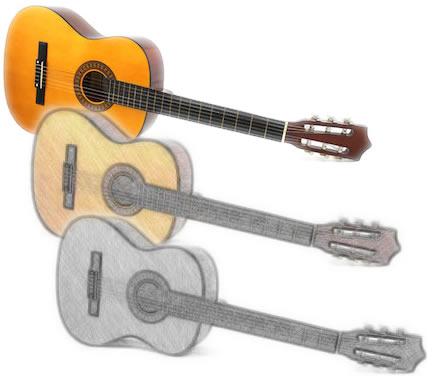 Enhancements to the CropTool mouse interaction, including size locking options and relevant TActions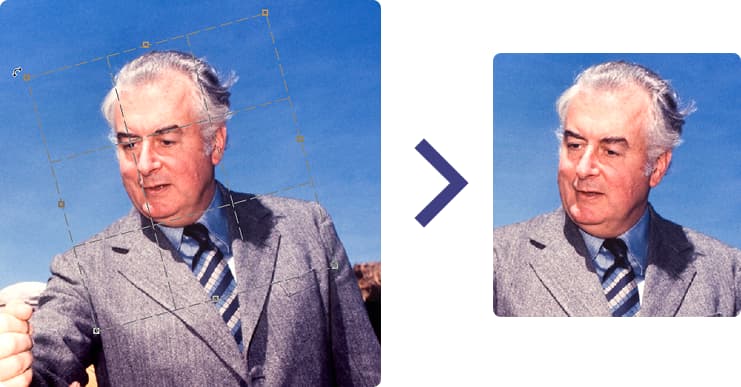 9. Printing of Layers and Annotations
Print and Print Preview methods now support layers, Wang Imaging and ImageEn annotations


10. Loading of Encrypted PDF files
+ RAD Studio 10.2 Tokyo Support
IEVision Advanced Features Add-In
The easiest way to add powerful functionality to ImageEn is with the IEVision add-in:
· OCR: Image to Text Conversion
· Patching of images (to hide blemishes and copy content)
· Face and object detection and tracking
· Advanced image processing algorithms
Upgrading to ImageEn 7.0.0
Upgrade to v7.0.0 with 12 months of free updates for $149.50 at:

Or purchase IEVision and extend ImageEn for only $449.50 (20% off):
IEvolution v6.0.0 Released
IEvolution if our .NET edition of ImageEn. We have just released v6.0.0 which adds many enhancements.
Top Ten Enhancements in 6.0.0
1. Four New Text and Vector Layer Types, including sixty built-in shapes, lines, pointers, polylines, polygons, and text blocks
2. Interactive Cropping, Rotation and Perspective Adjustment
3. Add rulers to IEViewer with a single property
4. Multiple Layer Selection, grouping, movement and rotation
5. Much easier Multiple Undo and Redo
6. New Image Processing methods, including "Symmetric Nearest Neighbor" smoothing filter, Pixelize, and "Pencil Sketch" effect
7. New Blurred Background style for IEViewer (like on YouTube when displaying portrait videos)
8. Update the display text of all files in an IEMulti without setting individual records
9. IEMulti can now use Windows Explorer thumbnails for extra speed and persistent caching
10. Improved rendering speed when a layer is manually rotated